Alfred Carden
(1849-c1932)
Born
Brighton, Sussex, England - 1849
Married
(1) Ryde Parish Church, Isle of Wight - 14th April 1873
(2) St Nicholas, Brighton - 29th August 1876
Died
Brighton - c1932
Burial
?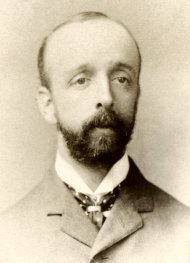 An Architect and Surveyor in Brighton. His first wife Ellen died tragically about 6 weeks after the wedding, probably from meningitis.
Children
(1) none
(2) Alfred Eastland Carden (1877-1965)
Spouse
(1) Ellen Redman (1845-1873)
(2) Margaret Elizabeth Tolhurst (e1855-e1915)
Siblings
Ellen (1852-1932)
Parents
William Carden (1802-1868), Louisa Eastland (1817-1887)
WARNING: You may get confused initially with the Ellen wives because of the intermarriages between Cardens and Redmans, with a brother and sister (Alfred and Ellen) in the Carden family marrying a sister and brother (Ellen and Joseph) in the Redman family. In other words, Ellen Carden became Ellen Redman and Ellen Redman became Ellen Carden!
Click to view any official Birth, Marriage or Death Records
---
---