John Cochrane MA JP
(1834-1901)
Born
Gortlee, Co. Donegal, Ireland - 9th April 1834
Married
(1) probably Crookstown, Co. Cork - e1864
(2) Lifford Church, Co. Donegal - 20th May 1869
Died
Combermore, Lifford - 27th April 1901
Burial
Lifford Churchyard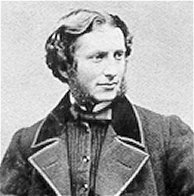 Image kindly provided by his
gt-granddaughter Anne Fisher.
Born in Gortlee near Letterkenny, Co. Donegal and later living at "Combermore", Lifford, Co. Donegal, he graduated with MA from Trinity College Dublin and became a solicitor and Clerk of the Peace for County Donegal and Justice of the Peace for the counties of Donegal and Tyrone.
His first wife and two infant daughters are buried in the large Cochrane grave at Lifford Churchyard.
Children
(1) Mary Emma Cochrane (1865 dii), Emma Elizabeth Cochrane (1866 dii).
(2) John Ernest Charles James Cochrane (1870-1938), Robert Cecil Cochrane (1871-1925), Edward Webber Warren Cochrane (1872-1933), Annie Frances Cochrane (1873-1959), Hugh Crawford Cochrane (1874-1943), Leonora Josephine Cochrane (1875-1951), Violet Margaretta Cochrane (1876-1975), Sydney Augustus Cochrane (1881-c1956), Ethel Grizel Mary Cochrane (1882-1883 dii), Mary Elizabeth Robina Cochrane (1884-1957), Rupert William Henry Cochrane (1885-1919), Henrietta Estelle Cochrane (1890-1945), Philip Cochrane (1893-1895 dii)
Spouse
(1) Emma Elizabeth Warren (e1832-1866)
(2) Martha Little (1847-1931)
Siblings
David Crawford, Charles Style, Sarah Maria, Annie, Frances Style, Mary.
Parents
James Cochrane (1801-1887), Margaret Crawford (1803-1865)
For further information read about him in "The Cochrane Family in Donegal", see the mini family tree showing marriages with the Crawford and Kincaid families, and read the Address presented to him after his second marriage by 96 tenants of the Erne Estate.
---