Joseph Henry Redman
(1823-1894)
| | |
| --- | --- |
| Born | Brighton, Sussex - c1823 |
| Baptised | St Nicholas, Brighton - 1st June 1823 |
| Married | St Nicholas, Brighton, Sussex - 30th October 1842 |
| Died | Sussex County Lunatic Asylum - 4th December 1894 |
| Burial | ? |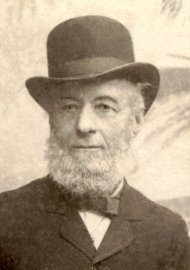 Fruiterer, Florist & Greengrocer in Brighton, Hastings and Ryde (Isle of Wight). He variously lived at 20 Frederick Street, Brighton (1845), 4 West Hill Street, Brighton (1848), 40 Robertson Street, Hastings (1862) and 83 Union Street, Ryde, IOW (1881). In old age, he evidently suffered from the mental problems of the elderly, possibly Alzheimer's Disease, and finished his life in the Sussex County Lunatic Asylum, Wivelsfield, Ditchling, Lewes, Sussex (1894); dying of "senile decay".
| | |
| --- | --- |
| Children | Anne Louisa Redman (1843-e1908), Ellen Redman (1845-1873), Emma Redman (c1847-e1913), Joseph Henry Redman (1848-1900), James Albert Redman (1850-e1885), Kate Redman (e1854-e1919), Alice Maud Redman (c1855-e1920), Minnie Redman (c1858-e1923), Nora Redman (1860-e1925), Frederick William Carden Redman (1862-bef1911) |
| Spouse | Ann Carden (1822-1878) |
| Siblings | Jemima (c1814-e1879), Priscilla (c1818-e1883), Rosanna (c1826-e1891), Sarah Ann (c1827-e1892), William James (c1830-e1890), Benjamin Mantell Allen (c1832-e1892) |
| Parents | James Redman (1786-e1846), Jemima Sawyer (e1795-e1860) |
You can also read the notes by Lois Moriarty (née Redman) on the Redman Family.
Click to view any official Birth, Marriage or Death Records
---
---